Library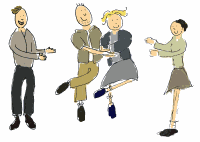 Anything goes. Have you something you'd like other members to see/hear/experience? Here's the spot.
Listen to David Talbot talking about us on Radio Berkshire

Richard Skinner on Saturday (MP3 7Mbytes) (10.50am Sat 27th Oct 2007) An excerpt from the programme where he talks to one of our members, David Talbot, about the health benefits of Scottish Country Dancing.
Radio Berkshire is on 104.1 104.4 95.4 & 94.6 FM DAB and online



Read about us in the Bracknell News:

Bracknell Reel Club at the Birch Hill Community Association 25th Anniversary

Auld Lang Syne - David McQuillan

Do you know the words? - I didn't. So I tried to find them out, but sometimes an answer isn't black and white.



Dance Difficulty - David McQuillan

How I assess dance difficulty in the lists in resources. Actually I don't - I try to get an assessment from essentially nothing more than lists of programmes. Probably for those who - well, actually, I don't think many people would be interested!